ÂN-DEW 10% Azelaic Acid + PHA Serum
Description
ÂN-DEW is an all-in-one, skin-brightening serum engineered to enhance, clarify, and mildly exfoliate your skin. It contains two gentle yet effective exfoliants, Azelaic Acid, and PHA gluconolactone, which eliminate dead skin cells, improve skin texture, and help fade blemishes and discoloration. The formula also includes hexylresorcinol, resveratrol, and licorice root extracts that synergistically even out skin tone and reduce persistent spots. Additionally, it offers potent botanical forms of Vitamin C from Kakadu plum and Indian gooseberry for superior free radical protection.
Fragrance-Free  |   Non-comedogenic  
Ingredients
Aqua, Azelaic Acid, Simmondsia Chinensis Seed Oil, Pentylene Glycol, C12-15 Alkyl Benzoate, Terminalia Ferdinandiana Fruit Extract, Glycyrrhiza Glabra Root Extract, Hexylresorcinol, Gluconolactone, Rubus Idaeus Seed Oil, Pichia/Resveratrol Ferment Extract, Morus Nigra Leaf Extract, Glycerin, Artocarpus Heterophyllus Seed Extract, Phyllanthus Emblica Extract, Polyacrylate Crosspolymer-6, Daucus Carota Sativa Extract, Tocopherol, Leuconostoc/Radish Root Ferment, Cucumis Sativus Extract, Sodium Benzoate, Benzoic Acid, Dehydroacetic Acid, Benzyl Alcohol, Sodium Citrate, Ferulic Acid, Tetrasodium EDTA, Potassium Sorbate, Camellia Sinensis Leaf Extract
Suitable For
ÂN-DEW is formulated to be compatible with all skin types, making it a versatile addition to any skincare routine. While it's designed to cater to the needs of all skin varieties, it may be particularly beneficial for those with skin prone to acne or rosacea.
BENEFITS
Brightening, clarifying, lightening, mildly exfoliating.
Please note
Some individuals may experience a phenomenon known as skin purging when using chemical exfoliants like Azelaic Acid and PHA Gluconolactone found in ÂN-DEW. These ingredients operate by shedding dead skin cells and drawing impurities to the surface, possibly leading to temporary skin purging. We advise maintaining use, as consistency over time will enhance skin texture and tone.
ÂN-DEW 10% Azelaic Acid + PHA Serum
How to use
The ÂN-DEW Azelaic Acid + PHA Serum lightens, brightens, clarifies, and mildly exfoliates the skin resulting in a more even skin tone and texture.
RITUAL
Apply in circular motions to a clean, dry face, neck, and décolleté once daily—working up to twice daily if skin tolerates it. Amplify visible results by pairing with the Radiant Hydra-Balm to seal in maximum benefits. Wear SPF during the day.
What's Inside?
Here are the key ingredients found within the ÂN-DEW 10% Azelaic Acid + PHA Serum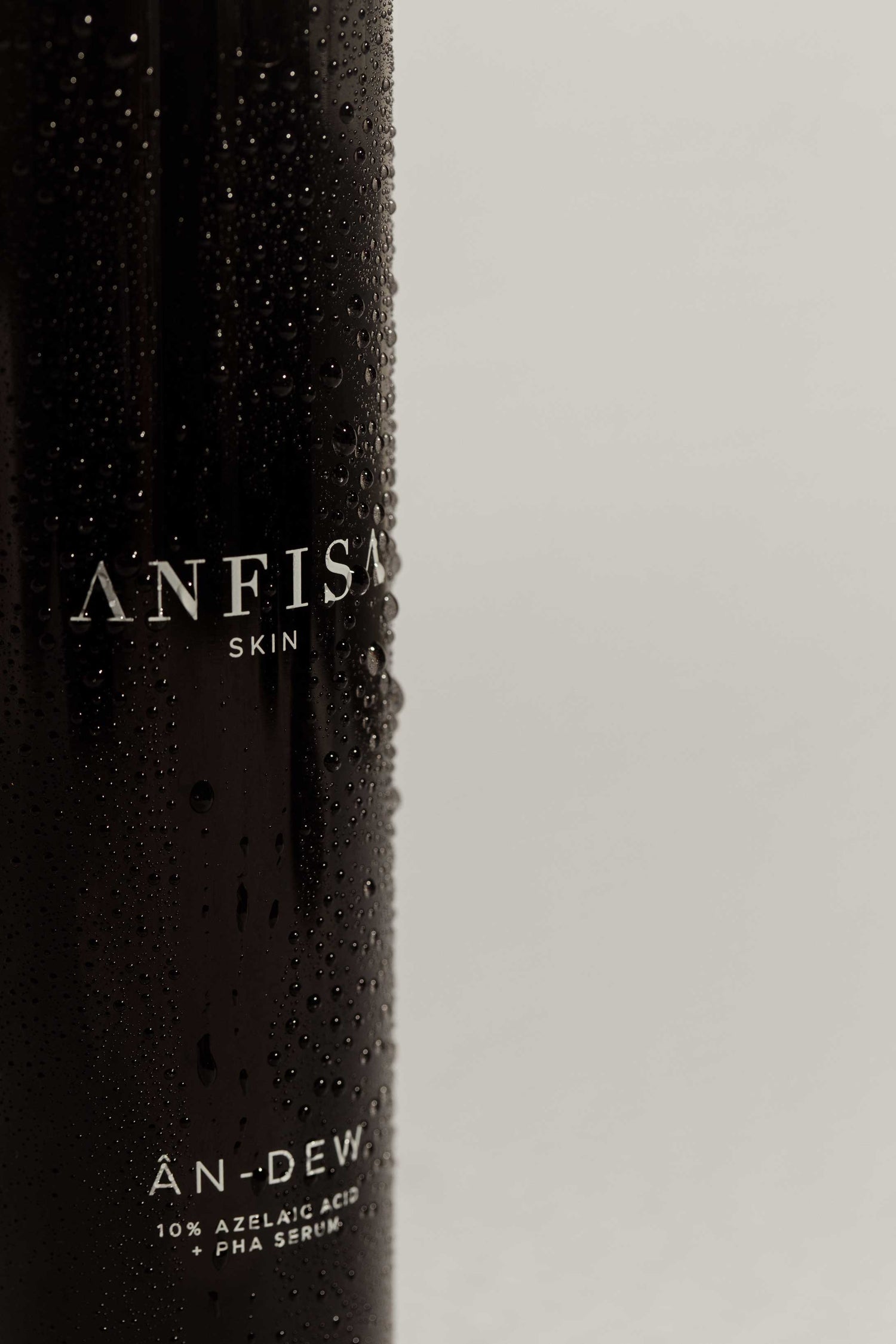 HEXYLRESORCINOL
is emerging as a leading agent in skin brightening and anti-aging skincare. It offers robust antioxidant protection and promotes a more uniform skin tone. Clinical research has shown its ability to lessen dark spots and blemishes across all phototypes. Studies observed a significant 20% reduction in age spots within four weeks.
KAKADU PLUM
a potent source of Vitamin C, contributes to a brighter complexion and improved skin tone and elasticity. In addition to its strong antioxidant attributes, it has demonstrated efficacy in calming skin sensitivities, reducing visible redness, and tackling signs of aging.
AZELAIC ACID
is a natural compound known for its multifaceted skincare benefits. It gently exfoliates and unclogs pores while calming inflammation. Its unique ability to mimic tyrosine interferes with tyrosinase activity, helping to manage abnormal melanocytes and thus lighten and brighten the skin. Additionally, its potent anti-inflammatory, antioxidative, and bactericidal properties effectively address various types of acne.
RESVERATROL
a powerful antioxidant found in grape skins and berries, operates at a cellular level in skincare to combat pathogens, slowing signs of aging and cell damage by aiding skin protection from oxidative and environmental stressors. Furthermore, Resveratrol helps lessen skin discoloration and redness while visibly soothing the skin.
POLYHYDROXY ACID
Gluconolactone, a chemical exfoliator, improves skin texture and tone. Compared to AHAs like glycolic acid, its larger molecular structure makes it gentler on sensitive skin while maintaining effectiveness without causing photosensitivity. Moreover, it can act as an antioxidant and enhance perceived skin firmness.
LICORICE ROOT EXTRACT
is known for its ability to brighten and calm sensitive or reddened skin. One of its components, glabridin, is a strong antioxidant, making it a valuable asset for addressing uneven skin tone by reducing the visibility of blemishes and post-acne marks.