ÂN-BALM Tester
*previously known as LILOU
Description
This product is not approved for retail sale.
Discover the ÂN-BALM Tester Edition, designed exclusively for our valued wholesale partners. This rendition maintains the signature formula that has redefined the concept of facial oils, presenting them in a concentrated, waxless balm form.It enhances overall skin health, vibrancy, and function and is particularly effective for dehydrated skin and sensitive skin ailments. This balm-to-oil formula is designed to repair and nourish all skin types and pairs naturally with the Moon White Jade Gua Sha, promoting a radiant glow. Comprising 20 plant-derived components, 86 antioxidants, and linoleic acid-rich oils, ÂN-BALM works at a cellular level to reduce inflammation and balance sebum production.
Please Note: While this edition does not include the external box or accompanying spoon, it provides our wholesale partners with a firsthand insight into the product's brilliance. This product is not approved for retail sale.
Ingredients
Astrocaryum Murumuru Seed Butter, Citrullus Lanatus Seed Oil, Vitis Vinifera Seed Oil, Sambucus Nigra Fruit Extract, Rubus Idaeus Seed Oil, Punica Granatum Seed Oil, Cucumis Sativus Seed Oil, Vaccinium Corymbosum Seed Oil, Ribes Nigrum Seed Oil, Rosa Mosqueta Seed Oil, Solanum Lycopersicum Seed Oil, Cannabis Sativa Seed Oil, Terminalia Ferdinandiana Fruit Extract, Camellia Sinensis Leaf Extract, Tocopherol, Camellia Sinensis Leaf, Phenoxyethanol, Helichrysum Italicum Flower Oil, Caprylyl Glycol, Tanacetum Annuum Flower Oil, Daucus Carota Seed Oil
Suitable for
This rejuvenating formula is suitable for all skin types, including those that are sensitive, dry, or acne-prone. It provides profound hydration and fosters overall skin health, making it an adaptable solution for a range of skin concerns. Ideal for aftercare following procedures such as microneedling, Morpheus8, lasers, and chemical peels, ÂN-BALM effectively soothes and calms the skin.
Benefits
Moisturizing, Regenerating, Barrier Repairing & Barrier Fortifying, Age-Defying, Soothing, Calming
PLEASE NOTE
Given the distinctive composition, this product may turn liquid during shipping or if exposed to temperatures exceeding 75 °F. To revert it back to a solid state, simply refrigerate it for around thirty minutes. The crystallization or grainy texture you may notice happens when plant butters such as Murumuru partially or completely melt under warmer conditions and then cool too slowly. This natural phenomenon doesn't compromise the product's quality or effectiveness. This crystallization or graininess might manifest as speckled white patches, as shown in this photo. It's a reminder of nature's beautiful imperfections.
HOW TO USE
ÂN-BALM reimagines the use of facial oils in a concentrated and waxless balm form, improving overall skin health, reducing cellular inflammation, and balancing sebum production.
RITUAL
To activate ÂN-BALM, gently massage it into damp skin twice daily, making it your final step in your skincare routine. Amplify visible results by pairing with ÂN-DEW 10% Azelaic Acid + PHA Serum beforehand.
What's Inside?
Here are the key ingredients found within the ÂN-BALM Radiant Hydra-Balm.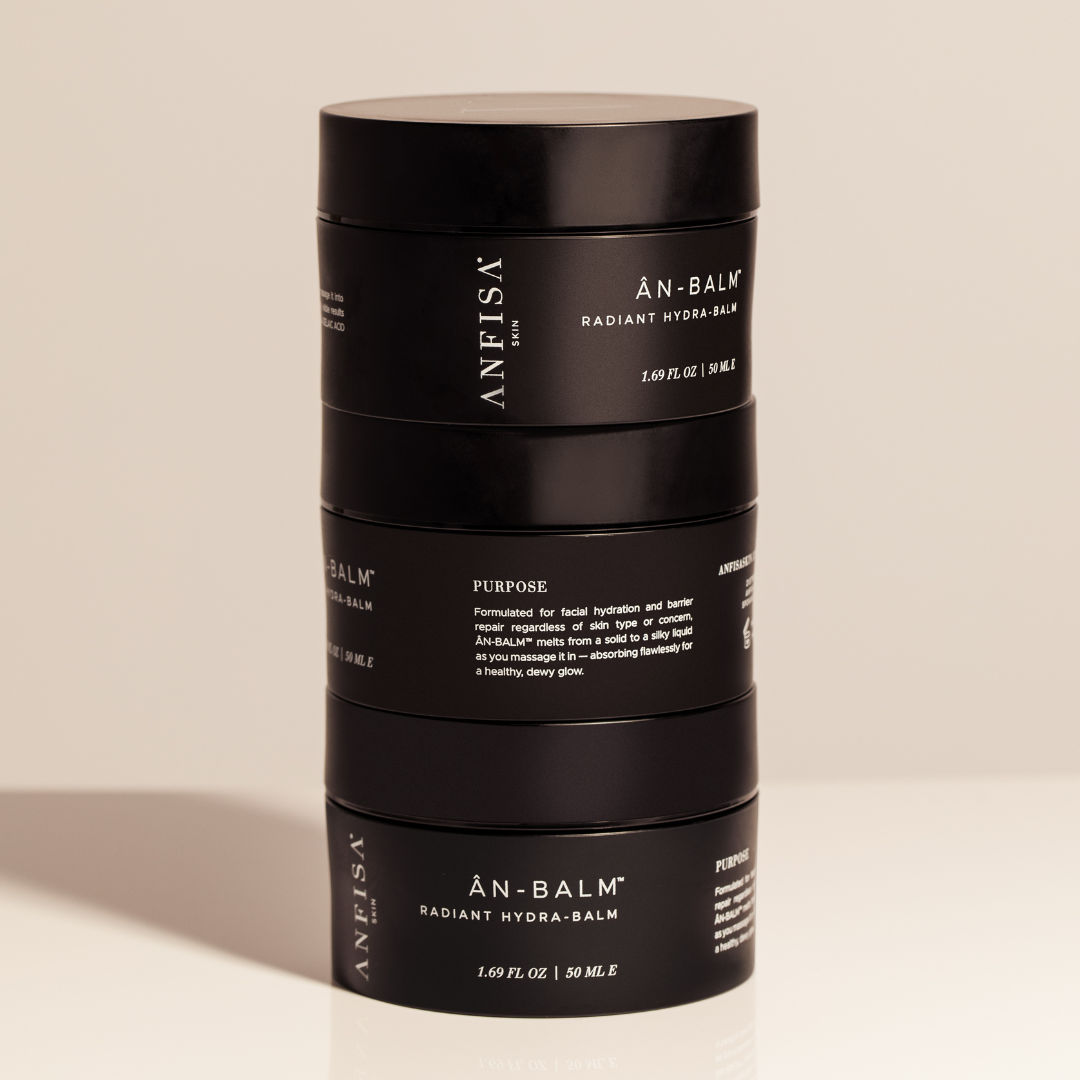 POMEGRANATE SEED OIL
boasts a rich concentration of Punicic acid, an omega-five fatty acid renowned for its anti-inflammatory and skin-regenerative capacities. This compound boosts circulation and aids tissue repair, making it a versatile solution for diverse skin concerns and conditions.
ELDERBERRY FRUIT EXTRACT
is laden with many phytonutrients and presents numerous beneficial properties. Its antioxidant, anti-inflammatory, antibacterial, antiviral, and hypoallergenic attributes work in unison to combat free radicals, thereby preventing cellular damage that leads to premature aging.
HELICHRYSUM ITALICUM
is characterized by its high diketones content, exhibits potent anti-inflammatory properties, and fosters skin regeneration. This leads to a reduction in scar formation and accelerates the growth of fresh skin tissue.
MURUMURU BUTTER
is a superior emollient that penetrates the skin effortlessly, enhancing its suppleness and elasticity. Its lightweight, non-greasy texture promotes skin restoration without creating a heavy sensation.
WATERMELON SEED OIL
is esteemed for its comprehensive vitamin profile, which helps to prevent damage from free radicals. It also detoxifies the skin and is recognized for dissolving oil buildup within pores.
HEMP SEED OIL
is a natural humectant with a richer concentration of essential fatty acids than any other plant source. Its bounty of phytonutrients enhances skin hydration, reduces water loss, and improves dry skin.